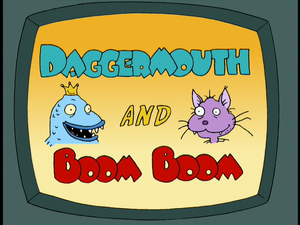 Daggermouth and Boom Boom is an American fictional animated television series that aired on Nickelodeon. It was the 18th Nicktoon ever made, picked up and premiering in "A Fish out of Water". The series is loosely based on the Daggermouth character created by Salty, a fisherman. In it, Daggermouth lives with an effeminate cat named Boom Boom.
In the episode seen, Boom Boom enters and brags about doing 20 laps to Daggermouth's surprise, then offers to perform 20 more, lapping up the milk in front of Daggermouth to his annoyance. Then Daggermouth proceeds to chase Boom Boom off into the distance.
Daggermouth and Boom Boom are voiced by Seth MacFarlane.