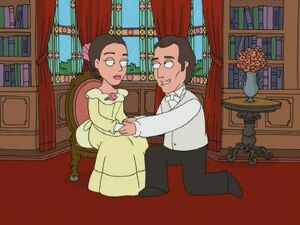 Daniel Michael Blake Day-Lewis (born April 29, 1957) is an English actor with British and Irish citizenship. He has become the first man in history to win the Best Actor Oscar three times, for My Left Foot, There Will Be Blood and Lincoln.[1]
He is shown asking for a topless scene with co-star Winona Ryder on the set of The Age of Innocence in "Breaking Out is Hard to Do".
He finishes behind a "Red Guy" for the Best Actor Oscar in "April in Quahog".