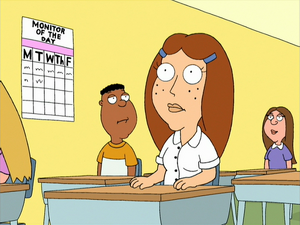 Danielle is a classmate of Chris Griffin's at Buddy Cianci Junior High School.
She appeared briefly in the episode Mr. Saturday Knight where Mort Goldman told her that her father had awful hemorrhoids that hurt so much that he had to apply the ointment to them with a sock.
Ad blocker interference detected!
Wikia is a free-to-use site that makes money from advertising. We have a modified experience for viewers using ad blockers

Wikia is not accessible if you've made further modifications. Remove the custom ad blocker rule(s) and the page will load as expected.