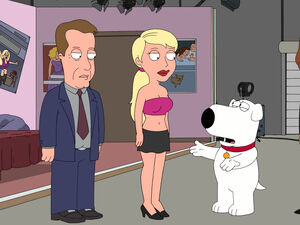 Danielle Nicole Panabaker (born September 19, 1987) is an American actress. She was a cast member in the CBS drama Shark, and appeared in the films Mr. Brooks, Sky High, and Friday the 13th.
Danielle provided the voice of Hillary, the female lead of Class Holes! opposite James Woods, in "Brian Griffin's House of Payne".
Ad blocker interference detected!
Wikia is a free-to-use site that makes money from advertising. We have a modified experience for viewers using ad blockers

Wikia is not accessible if you've made further modifications. Remove the custom ad blocker rule(s) and the page will load as expected.