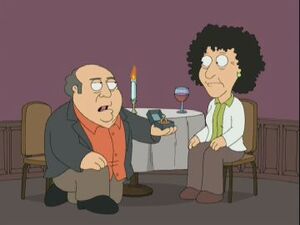 Daniel Michael "Danny" DeVito, Jr. (born November 17, 1944) is an American actor, director and producer, who first gained prominence for his portrayal of Louie De Palma on the ABC and NBC sitcom, Taxi (1978–1983). Along with then-wife, Rhea Perlman, he founded Jersey Films, a production company famous for producing films such as Pulp Fiction, Garden State, and Freedom Writers, and Jersey Television, most famous for producing the Comedy Central series, Reno 911!, He also stars as Frank Reynolds on the FX sitcom, It's Always Sunny in Philadelphia. DeVito and Pearlman would later separate in 2012.
He appears in his Taxi role in "There's Something About Paulie".
DeVito and Perlman appear in "Whistle While Your Wife Works", when he proposed to her. Faced with no other choice, she accepts.
Danny is voiced by Robert Costanzo.