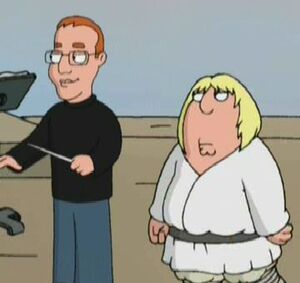 Daniel Robert "Danny" Elfman (born May 29, 1953) is an American musician, best known for composing music for television and movies, and leading the rock band, Oingo Boingo, as singer/songwriter from 1976 until its breakup in 1995. He is a frequent collaborator with long-time friend, Tim Burton, and has scored all but three of his films. He was nominated for four Academy Awards and won a Grammy Award for Tim Burton's Batman and an Emmy Award for his Desperate Housewives theme. Elfman also wrote the theme for the video game, Fable. He is also famous for creating The Simpsons main title theme, and his role as Jack Skellington's singing voice in The Nightmare Before Christmas. He is the Uncle-in-law to actress Jenna Elfman.
He is John Williams's replacement in Blue Harvest until Luke Skywalker, portrayed by Chris Griffin kills him.
Ad blocker interference detected!
Wikia is a free-to-use site that makes money from advertising. We have a modified experience for viewers using ad blockers

Wikia is not accessible if you've made further modifications. Remove the custom ad blocker rule(s) and the page will load as expected.