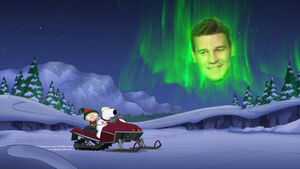 David Paul Boreanaz (born May 16, 1969) is an American actor, known for his role as Angel on the supernatural drama series Buffy the Vampire Slayer and Angel, and as Seeley Booth on the television comedy-crime drama, Bones.
Stewie Griffin appeared as one of his character Seeley Booth's hallucinations in "The Critic in the Cabernet" episode of Bones.
He appears in "Road to the North Pole" as the friendly "Aurora Boreanaz". The year after encountering Brian and Stewie, helping them find shelter, he winks at a healthy Santa Claus.