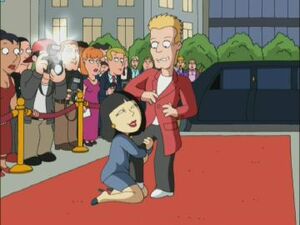 David Bowie (born David Robert Jones; January 8, 1947 - January 10, 2016) was an English musician, actor, record producer and arranger. Active in five decades of popular music and frequently reinventing his music and image, Bowie was widely regarded as an innovator, particularly for his work in the 1970s. He has been cited as an influence by many musicians and was known for his distinctive voice and the intellectual depth of his work.
A joke in Carrot Scalp's act in "The Son Also Draws" pokes fun at Bowie.
He made a brief appearance in Stewie Griffin: The Untold Story on the red carpet where obsessed fan Tricia Takanawa dry humped his leg.
The complete music video of his version of "Dancing in the Street" with Mick Jagger was shown in a Conway Twitty-style cutaway gag in "Foreign Affairs".
Tom Tucker quotes Bowie's "Major Tom" while reporting an airline strike in "American Gigg-olo". When he realizes the joke has fallen flat, he inquires if anyone else likes David Bowie.
Brian mentions Bowie's death of cancer in "Crimes and Meg's Demeanor".
External Websites