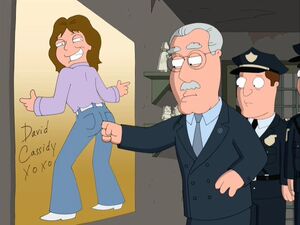 David Bruce Cassidy (born April 12, 1950) is an American actor, singer, songwriter and guitarist. He is best known for his role as Shirley Jones's eldest son, Keith Partridge, in the 1970s musical/sitcom The Partridge Family from 1970 to 1974. Jones is Cassidy's stepmother in real life. He was one of pop culture's most celebrated teen idols, enjoying a successful pop career in the 1970s, and still performs today.
Cassidy appears on a poster on the wall in the jail cell of Andy Dufresne, played by Peter Griffin in the segment of "Three Kings" which parodies The Shawshank Redemption.
Ad blocker interference detected!
Wikia is a free-to-use site that makes money from advertising. We have a modified experience for viewers using ad blockers

Wikia is not accessible if you've made further modifications. Remove the custom ad blocker rule(s) and the page will load as expected.