Ad blocker interference detected!
Wikia is a free-to-use site that makes money from advertising. We have a modified experience for viewers using ad blockers

Wikia is not accessible if you've made further modifications. Remove the custom ad blocker rule(s) and the page will load as expected.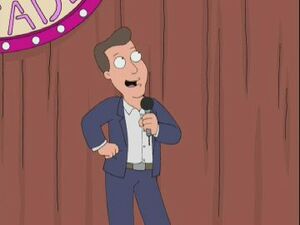 David Cross (born April 4, 1964) is an American comedian, writer, and actor. Cross co-starred in Arrested Development. He has also played smaller roles on programs such as Just Shoot Me!, The Drew Carey Show, NewsRadio, Aqua Teen Hunger Force, Kung Fu Panda 1 & 2, Alvin & The Chipmunks (2007), Alvin & The Chipmunks: The Squeakquel, and Alvin & The Chipmunks: Chipwrecked.
In "Prick Up Your Ears", he provides the voice for minister Jerry Kirkwood.