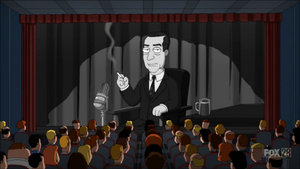 David Herman is a voice actor and comic actor known primarily for his work on the first season of MADtv, providing various miscellaneous voices on Futurama, and for playing the role of Michael Bolton in the movie Office Space.
Herman impersonates David Strathairn in "Tom Tucker: The Man and His Dream".
Ad blocker interference detected!
Wikia is a free-to-use site that makes money from advertising. We have a modified experience for viewers using ad blockers

Wikia is not accessible if you've made further modifications. Remove the custom ad blocker rule(s) and the page will load as expected.