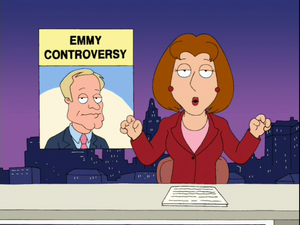 David Hyde Pierce (born April 3, 1959) is an American actor, best known for his role as psychiatrist Dr. Niles Crane on the NBC sitcom Frasier.
In "Peter, Peter, Caviar Eater", Brian forces Peter Griffin to watch an episode of Frasier in an attempt to teach him how to act with class.
In "PTV", he has a "trouser malfunction" at the Primetime Emmy Awards that results in intensive censoring of television by the FCC.
In "The Family Guy 100th Episode Special" one of the people interviewed by Seth MacFarlane thought Pierce does the voice of Stewie Griffin. MacFarlane, Stewie's true voice actor, confirmed to her that Pierce does his voice so that Pierce would be thought down upon by the woman, instead of himself.