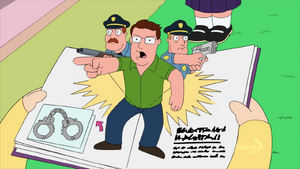 David Kaczynski (born October 3, 1949) is the Executive Director of New Yorkers For Alternatives to the Death Penalty, and the younger brother of the "Unabomber" Ted Kaczynski.
Penelope has a pop-up book copy of the "Unibomber's Manifesto" in "Mr. and Mrs. Stewie". As Stewie look through it, she notes that his brother David Kaczynski turns him in at the end.
Ad blocker interference detected!
Wikia is a free-to-use site that makes money from advertising. We have a modified experience for viewers using ad blockers

Wikia is not accessible if you've made further modifications. Remove the custom ad blocker rule(s) and the page will load as expected.