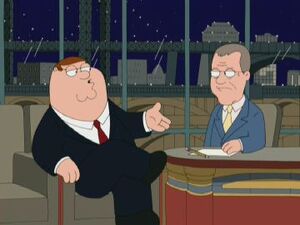 David Michael Letterman (born April 12, 1947) is an American television host and comedian. He hosts the late night television talk show, Late Show with David Letterman on CBS. Letterman has been a fixture on late night television since the 1982 debut of Late Night with David Letterman on NBC. Only Letterman's friend and mentor Johnny Carson has had a longer late-night hosting career. His production company also produces The Late Late Show with Craig Ferguson.
During the afterparty in Stewie Griffin: The Untold Story, Stewie explains about appearing on talk shows including Late Show with David Letterman after Family Guy was canceled. When he drops his jumper in front of David, Paul Shaffer gets a big laugh.
He had James Woods, whose identity Peter Griffin assumed, as a guest in "Back to the Woods". "Woods" was promoting his new HBO TV film called September 11, 2000-and-fun, co-starring David Spade. He was voiced by his most well-known impressionist Dave Van Dam.
David appears in "Ratings Guy" reading Good Night, Truck to Peter.
In reality, two Family Guy characters have delivered Late Show Top Ten Lists. Stewie Griffin delivered The Top Ten Things You Don't Want to Hear From Your Child in 2009. Peter delivered The Top Ten Things I, Peter Griffin, Would Like to Say to America.