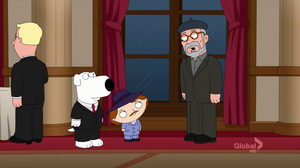 David Alan Mamet (born November 30, 1947) is an American playwright, essayist, screenwriter, and film director. Best known as a playwright, Mamet won a Pulitzer Prize and received Tony nominations for Glengarry Glen Ross and Speed-the-Plow. As a screenwriter, he received Oscar nominations for The Verdict and Wag the Dog.
David is one of the playwrights introduced to Brian at a party in New York while Stewie prepares for the opening of his Broadway play in "Brian's Play". Brian tries to impress David by telling him what a big impression Glengarry Glen Ross made on him. When Brian tries to tout his own play, they pronounce it the worst piece of dreck they had ever seen and laugh at it, with David unleashing a string of profanity.
David is voiced by John Viener.
Ad blocker interference detected!
Wikia is a free-to-use site that makes money from advertising. We have a modified experience for viewers using ad blockers

Wikia is not accessible if you've made further modifications. Remove the custom ad blocker rule(s) and the page will load as expected.