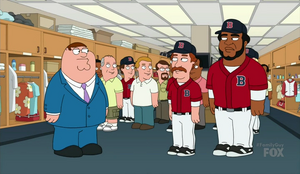 David Américo Ortiz Arias (born November 18, 1975), nicknamed "Big Papi", is a Dominican-American retired professional baseball player, spending most of his career with the Boston Red Sox.
Peter and Lois meet Wade Boggs, one of Peter's childhood heroes at a baseball fantasy camp in "Peter's Lost Youth". He compares Boggs relatively diminutive size to Ortiz, who picks him up like a baby at Peter's instruction.
Ortiz is voiced by Kevin Michael Richardson.