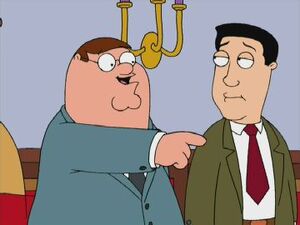 David Lawrence Schwimmer (born November 2, 1966) is an American actor and director of television and film. He is best known for role as Ross Geller in the television show Friends and Melman the Giraffe in the film Madagascar.
In "There's Something About Paulie", he is standing in line to see The Don about world peace.
As hypothesized in "Death Is a Bitch", Schwimmer would be a guest on Hitler, the talk show that would be hosted by Adolf Hitler if Hitler were still alive, with Friends co-star Matthew Perry.
He is also referenced in "You May Now Kiss the...Uh...Guy Who Receives" when Lois says she would rather sit through one of his movies than attend a gay wedding.
Ad blocker interference detected!
Wikia is a free-to-use site that makes money from advertising. We have a modified experience for viewers using ad blockers

Wikia is not accessible if you've made further modifications. Remove the custom ad blocker rule(s) and the page will load as expected.