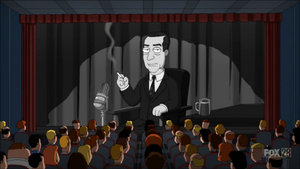 David Russell Strathairn (born January 26, 1949) is an American actor. He was nominated for an Academy Award for portraying journalist Edward R. Murrow in Good Night, and Good Luck.
Peter Griffin watches Good Night, and Good Luck in "Tom Tucker: The Man and His Dream" although he claims he was tricked by the tagline into leaving the theater early.
Strathairn is impersonated by David Herman.