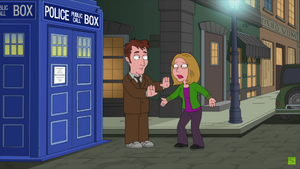 David John McDonald (born April 18th, 1971), known professionally as David Tennant , is a Scottish actor known for his stint as the tenth Doctor Who.
Tennant reprises his role of Doctor Who in a television gag of Doctor Who Farted, refusing to allow his companion to enter the T.A.R.D.I.S. after passing gas.
Ad blocker interference detected!
Wikia is a free-to-use site that makes money from advertising. We have a modified experience for viewers using ad blockers

Wikia is not accessible if you've made further modifications. Remove the custom ad blocker rule(s) and the page will load as expected.