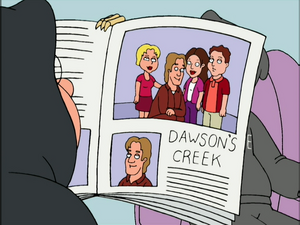 Dawson's Creek is an American primetime television drama which initially aired from January 20, 1998, to May 14, 2003, on The WB Television Network. The show was set in the fictional town of Capeside, Massachusetts and in Boston, Massachusetts during the later seasons. Aimed at a teenage audience, the semi-autobiographical show is based on the small-town childhood of its creator Kevin Williamson. The lead character, Dawson Leery, mirrors Williamson's interests and background. Filmed in Wilmington and Durham, North Carolina, Southport, North Carolina, the show was set in a small fictional seaside town called Capeside, Massachusetts. It focused on four friends who were in the early part of their sophomore and first year of high school when the series began.
The show starred James Van Der Beek as Leery, Katie Holmes as Josephine "Joey" Potter, Joshua Jackson as Pacey Witter, and Michelle Williams as Jen Lindley.
In "Death Is a Bitch", Death sends Peter Griffin out to cause a plane crash that will kill the entire cast of Dawson's Creek and prove that Death still exists after Peter shows off while Death is incapacitated. Peter was a big fan of the show.
In "Peterotica", Griffin and his father-in-law Carter Pewterschmidt plan to get rich by making their own rip-off of Dawson's Creek called Quahog Creek. Peter played Leery while Carter played Potter. Brian Griffin directed the first episode attempt.