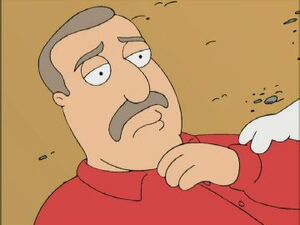 Dean Koontz (born July 9, 1945) is an American author best known for his novels which could be described broadly as suspense thrillers. He also frequently incorporates elements of horror, science fiction, mystery, and satire. Several of his books have appeared on the New York Times Bestseller List, with ten hardcovers and fourteen paperbacks reaching the number one slot. Early in his career, Koontz wrote under an array of pen names.
There is a perception of a rivalry between Koontz and Stephen King among fans which neither writer will comment on. [1]
Koontz appeared in "Brian in Love". Brian is driving down a forest-lined road when he accidentally runs over a man. After getting out and running to him, Brian asks if he is King, and the man identifies himself as Dean Koontz, so Brian gets back in his truck and runs him over again.
Ad blocker interference detected!
Wikia is a free-to-use site that makes money from advertising. We have a modified experience for viewers using ad blockers

Wikia is not accessible if you've made further modifications. Remove the custom ad blocker rule(s) and the page will load as expected.