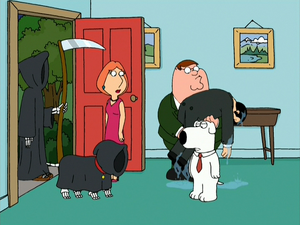 Death's Dog is Death's pet dog. He collects canines when they pass away. Unlike Brian, or his cousin Jasper, he walks on all four legs.
The dog appeared in "Mr. Saturday Knight", where he arrives with Death with the intention of claiming Brian, who temporarily choked on a dinner roll.
Death's Dog is voiced by Jimmy Kimmel.
Ad blocker interference detected!
Wikia is a free-to-use site that makes money from advertising. We have a modified experience for viewers using ad blockers

Wikia is not accessible if you've made further modifications. Remove the custom ad blocker rule(s) and the page will load as expected.