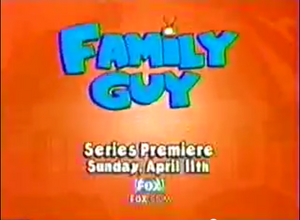 Not only was this the premiere episode of Family Guy, but this was the first episode to air on a Sunday, both during the Superbowl and after it was picked up as a complete series starting April 11th, 1999. When Family Guy was revived in 2005, Fox put it at the 9:00 PM timeslot, and American Dad! following it at 9:30, helped revive the Sunday night Animation Domination block. Family Guy has remained there ever since.
The episode begins with the family watching an episode of The Brady Bunch in which Jan tattles on Greg for smoking cigarettes. A real episode titled "Where There's Smoke" featured a similar plot.
The cutaway gag of Peter taking Holy Communion in church originated in the Pilot Pitch and was repeated again in "Fifteen Minutes of Shame".
Brian doesn't vote because of welfare checks.
A wimpy Adolf Hitler is seen being jealous of a beefy Jewish man surrounded by women in the "Das Gym".
The family is watching Tom Hanks in Philadelphia. Peter figures out that it's Hanks, recognizing him from Big.
Peter auditions to be Sonny, the bird mascot of Cocoa Puffs, but keeps messing up on the slogan in very family-unfriendly ways, so he is fired.
Stewie uses the mind control device, a "tuna fish" ray gun, a crossbow, and six grenades in this episode.
Cleveland is seen at the party along with Quagmire as well as in the court scene.
Quagmire's game which when won results in something that the player would've gotten or already got is played again in "Emission Impossible". For this game, Peter won another beer.
During the sequence where Peter goes to work hungover cuts out the part where one of the workers pitches a new idea for an action figure called "G.I. Jew" on FOX.
The cutaway of Peter losing a music contest to the Von Trapp family was cut before he could say, "That is bull." and getting drowned out by audience applause, the word "bullshit" was actually spoken, however it was drowned by the audience to get a lower parental rating, also to prevent the scene being cut by FOX.
The part after Peter says he's going to apply for a minority scholarship and the fake credits roll is cut to remove Peter's other two ideas of a sexual harassment suit and a disability claim on FOX.
The Super Bowl features football announcers John Madden and Pat Summerall.
Peter hires a jester with his welfare money. The jester is Jerry Seinfeld, accompanied by a parody of the theme song from his hit sitcom Seinfeld. He is best known for his observational humor, which is parodied in this episode.
Peter mentions to the 1970s TV sitcom Diff'rent Strokes as an excuse for his misdemeanors.
The Kool-Aid Man appears and says his catchphrase "Oh, Yeah!"
Peter abandons the lone man who stood in front of government tanks attempting to stop them at Tianmen Square in 1989.
The episode is "reshot" with the new actors, Tom Arnold, Fran Drescher, Philip Seymour Hoffman, Other Meg, and Mary-Kate and Ashley Olsen on The Real Live Griffins in "Fifteen Minutes of Shame".
The family watches TV's Bloopers and Practical Jokes at the end of the episode.
Some of the gags in this episode originated from Seth MacFarlane's animated short, "Life of Larry", including:

God being embarrassed by the priest telling the story of how He treated Job
Peter seeing Philadelphia drunk
Peter farting for the first time at age 30

Brian and Stewie travel back in time to this episode in "Back to the Pilot".