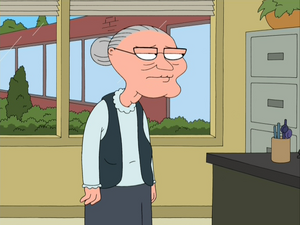 Debbie Reynolds (April 1, 1932-December 28, 2016) was an American actress, singer, and dancer. She was also a collector of movie memorabilia. Debbie Reynolds regularly appeared in movie musicals during the 1950s and had several hit records during the period. Her song "Aba Daba Honeymoon", featured in the 1950 film Two Weeks with Love as a duet with Carleton Carpenter, was a top-three hit in 1951. Her most high-profile film role was in Singin' in the Rain.
Reynolds is the mother of Carrie Fisher, the voice of Angela, Peter Griffin's boss at the Pawtucket Brewery.
She provided the voice of Mrs. Wilson, a teacher at Martin Mull Elementary School in "Tales of a Third Grade Nothing".