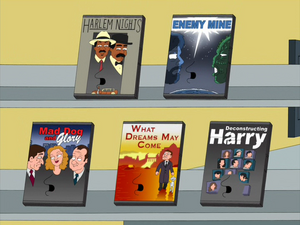 Deconstructing Harry is a 1997 black comedy film directed by and starring Woody Allen and also starring Kirstie Alley, Billy Crystal, Tobey Maguire, Jennifer Garner, Paul Giamatti, Stanley Tucci, Julia Louis-Dreyfus, Robin Williams, Demi Moore and Amy Irving. The film tells the story of a successful writer called Harry Block, who draws inspiration from people he knows in real-life, and from events that happened to him, sometimes causing these people to become alienated from him as a result.
In "Brian's Got a Brand New Bag" when the Griffins go to the DVD sale at Quahog Video, the cashier offered to give Peter Griffin a copy of What Dreams May Come when he bought Road House. Peter turned down the offer, stating that he would kill the cashier even if the DVD even touched Road House. The DVD of the movie is then seen singing the song "Maybe" from the musical Annie with the DVDs of What Dreams May Come, Mad Dog and Glory, Harlem Nights and Enemy Mine.
Ad blocker interference detected!
Wikia is a free-to-use site that makes money from advertising. We have a modified experience for viewers using ad blockers

Wikia is not accessible if you've made further modifications. Remove the custom ad blocker rule(s) and the page will load as expected.