Ad blocker interference detected!
Wikia is a free-to-use site that makes money from advertising. We have a modified experience for viewers using ad blockers

Wikia is not accessible if you've made further modifications. Remove the custom ad blocker rule(s) and the page will load as expected.
Deep Throats
Meg works for Mayor Adam West.

Season: 4 Episode: 23
Total Episode Count: 73
Prod. no.: 4ACX26
First Aired: April 9, 2006

Guest Starring: H. Jon Benjamin, Kate Jackson
Featuring: Peter Griffin, Lois Griffin, Meg Griffin, Stewie Griffin, Brian, Mayor Adam West
Also Appearing: Chris, Cleveland Brown, Seamus, Tom Tucker, Diane Simmons, Quagmire, Carl, Todd Griffin, Chuck, Morty, Bruce, Oprah Winfrey, Stewie Cruise, Vern and Johnny, Noid, Kermit the Frog, Kate Jackson, The Phantom of the Opera, Christine Daaé, Uncle Sam, Jessica Alba Uncensored version: Fred, Daphne, Velma, Shaggy, Scooby-Doo
Musical Numbers: Noble Indian Chief, (In God's Eyes) Everybody's Hot, My Father's Mustache, A Lot of Tubes, Ding! Fries are Done!, According to Our New Arrivals, The Phantom of the Opera

Director: Greg Colton

Assistant Director
:
Deborah Cone
Writers
:
Alex Borstein
Storyboarders
:
Joe Vaux
,
Rick Del Carmen
Plot
: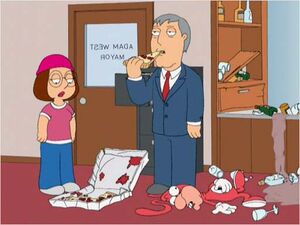 When Meg lands an internship with Mayor Adam West, Brian feels pressure to get a job to avoid being branded "the new Meg" by the family. He gets a job driving a taxi, but when he receives a $400 parking ticket, he argues to the Mayor that he's corrupt. Determined to expose his shady ways, Brian and Stewie go undercover and discover that Meg is in deeper than they thought as she is engaged in an innocent, yet secret, relationship with the mayor. When Brian confronts Meg with pictures of her and the Mayor and Meg tells Adam, he ends the relationship to protect her from getting her name dragged through the mud.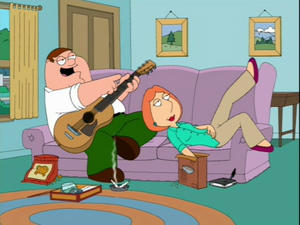 Brian feels bad and apologizes to Meg. After Brian offers to take Meg home he sees Cleveland destroying his taxi after being inadvertently denied rides; when spotted, Cleveland turns into a big cat and runs off.
Meanwhile, a local talent show brings Peter and Lois back to their folk singing days. Unfortunately, they also revert back to their hippie ways, smoking pot to conjure ideas for songs. Oblivious in their high state, Peter and Lois horribly blunder their performance at the show and lose. Chris gives them a lecture on the effects of smoking marijuana.