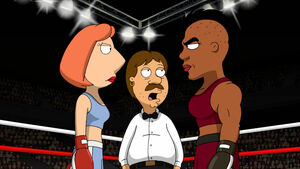 Deirdre Jackson is a boxer who appeared in "Baby, You Knock Me Out". She brought Lois Griffin out of boxing retirement. She killed three boxers in the ring, and attempted to kill Lois during a match she challenged her to. It is said that her fists are so deadly, she is not allowed to be a lesbian.
Jackson is voiced by Alex Borstein.
Ad blocker interference detected!
Wikia is a free-to-use site that makes money from advertising. We have a modified experience for viewers using ad blockers

Wikia is not accessible if you've made further modifications. Remove the custom ad blocker rule(s) and the page will load as expected.