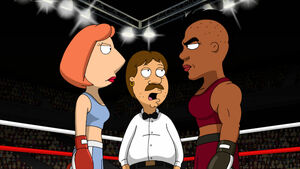 Deirdre Jackson is a boxer who appeared in the episode "Baby, You Knock Me Out". She brought Lois Griffin out of boxing retirement. She killed three boxers in the ring, and attempted to kill Lois during a match she challenged her to. It is said that her fists are so deadly, she is not allowed to be a lesbian.
She is a parody of Clubber Lang, the boxer played by Mr. T in Rocky III. Both characters are African-American, sport a mohawk and uses a no-nonsense attitude.
Jackson is voiced by Alex Borstein using a slightly higher version of her Loretta Brown voice.