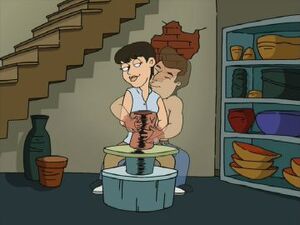 Demi Guynes Kutcher (born November 11, 1962), known professionally as Demi Moore, is an American actress. After minor roles in film, and a role in the soap opera, General Hospital, Moore established her career in films such as St. Elmo's Fire (1985) and Ghost (1990), and in the early 1990s became one of the highest paid actresses in Hollywood following her successes in A Few Good Men (1992), Indecent Proposal (1993) and Disclosure (1994).
Moore took her professional name from her first husband, Freddy Moore, and is the mother of three daughters from her marriage to Bruce Willis. She has been married to actor, Ashton Kutcher, since 2005 and later took his last name in 2009.
In "The Story on Page One", Peter Griffin is a Ghostbuster and interrupts the famous potter wheel scene from Ghost and sucks up Patrick Swayze. "Baby Not On Board" also reenacts the potters wheel scene while Peter is getting a massage.
Her face is one of those unidentifiable on the Deconstructing Harry DVD cover at Quahog Video in "Brian's Got a Brand New Bag".
When Peter dies in "Are You There God? It's Me, Peter", God offers him a chance to do pottery while straddling present-day Demi Moore. Peter passes on the offer and notes that her back bones might hurt his tummy.