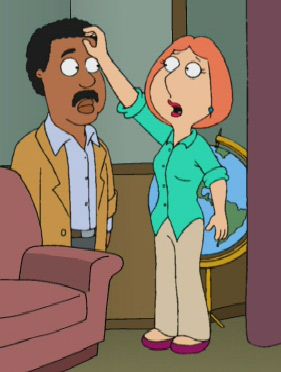 Grady Demond Wilson (born October 13, 1946) is an American actor, author and pastor. He was known for his role opposite Redd Foxx as Fred Sanford's long-suffering son, Lamont Sanford, in the 1970s NBC sitcom, Sanford and Son.
Lois Griffin thought he was Loretta Brown hiding behind Nigel Pinchley's couch in "One if by Clam, Two if by Sea" during Pinchley's crime admissions. Brown was supposed to be hiding in the room, but the plan was botched.
Peter Griffin was Lamont to his father Francis Griffin's Fred in a Sanford and Son-related imagining in "Holy Crap".
Ad blocker interference detected!
Wikia is a free-to-use site that makes money from advertising. We have a modified experience for viewers using ad blockers

Wikia is not accessible if you've made further modifications. Remove the custom ad blocker rule(s) and the page will load as expected.