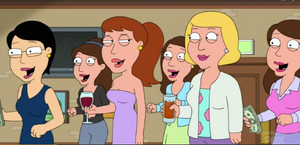 Denise is an attendee at a bachelorette party held for Robin at Mingles in "American Gigg-olo".
When Quagmire stops at Mingles after a day on a picket line when the airline pilots go on strike, he is mistaken for a stripper. Robin comments on the act, which another women finds funny and encourages her to pursue comedy.
Ad blocker interference detected!
Wikia is a free-to-use site that makes money from advertising. We have a modified experience for viewers using ad blockers

Wikia is not accessible if you've made further modifications. Remove the custom ad blocker rule(s) and the page will load as expected.