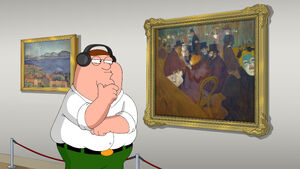 Dennis Farina (February 29, 1944 - July 22, 2013) was an American actor of film and television and former Chicago police officer. He was a character actor, often typecast as a mobster or police officer. His acting career included Crime Story, Get Shorty, Law & Order and Luck.
In his final television role, Farina voices himself in "The Most Interesting Man in the World" as an audio tour guide when Peter visits the Art Institute of Chicago. Dennis eats as he narrates the tour.
Ad blocker interference detected!
Wikia is a free-to-use site that makes money from advertising. We have a modified experience for viewers using ad blockers

Wikia is not accessible if you've made further modifications. Remove the custom ad blocker rule(s) and the page will load as expected.