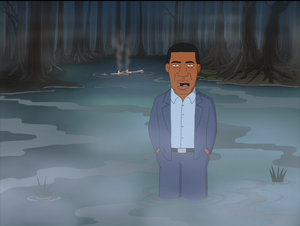 Dennis Dexter Haysbert (born June 2, 1954) is an American film and television actor. He is known for portraying baseball player Pedro Cerrano in the Major League film trilogy, President David Palmer on the American television series 24, and Sergeant Major Jonas Blane on the drama series The Unit, as well as his work in commercials for Allstate Insurance. He is also known for his authoritative, bass voice.
In Something, Something, Something, Dark Side, he films an Allstate commercial on Dagobah focusing on swamp crashes, following the one Luke Skywalker, played by Chris Griffin, just experienced.
Ad blocker interference detected!
Wikia is a free-to-use site that makes money from advertising. We have a modified experience for viewers using ad blockers

Wikia is not accessible if you've made further modifications. Remove the custom ad blocker rule(s) and the page will load as expected.