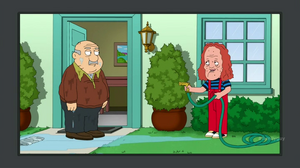 Dennis the Menace is a daily syndicated newspaper comic strip originally created, written, and illustrated by Hank Ketcham. The comic strip been adapted to other media, including several television shows, both live-action and animated; and several feature films, including theatrical and direct-to-video releases.
Peter rants about Dennis only shoveling snow and not being a menace in "The Simpsons Guy".
Mr. Wilson isn't allowed to get angry anymore when Rocky Dennis becomes the new menace in "This Little Piggy".