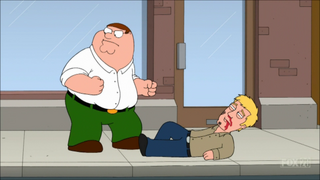 Derek & Michael are two strangers Peter Griffin beats up in "Quagmire and Meg". Upset that Quagmire is trying to score on Meg, Peter vows to "kick ass and take names." After beating up Derek, he demands his name. When he beats up Michael, he gives him the name of Derek.
Ad blocker interference detected!
Wikia is a free-to-use site that makes money from advertising. We have a modified experience for viewers using ad blockers

Wikia is not accessible if you've made further modifications. Remove the custom ad blocker rule(s) and the page will load as expected.