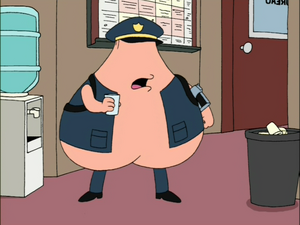 Detective Scrotes is the fictional brother to Detective Vic Mackey on The Shield. In Stewie Griffin: The Untold Story, Stewie Griffin compares his shaved privates to Michael Chiklis, claiming they could be brothers. The cutaway gag shows Mackey walking into the station and arguing with his brother, Detective Scrotes.
Ad blocker interference detected!
Wikia is a free-to-use site that makes money from advertising. We have a modified experience for viewers using ad blockers

Wikia is not accessible if you've made further modifications. Remove the custom ad blocker rule(s) and the page will load as expected.