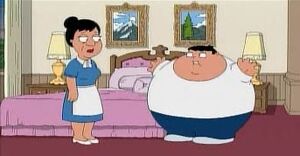 Diabeto is the son of Carter and Barbara Pewterschmidt's most recent maid. He appeared in "Welcome Back, Carter" and is morbidly obese. His hobby is eating cookies. He also rolls to wherever his destination point is.
He is voiced by Seth Green.
Ad blocker interference detected!
Wikia is a free-to-use site that makes money from advertising. We have a modified experience for viewers using ad blockers

Wikia is not accessible if you've made further modifications. Remove the custom ad blocker rule(s) and the page will load as expected.