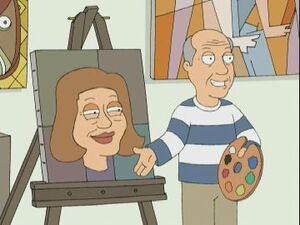 Dianne Wiest (born March 28, 1948) is an American actress. She has had a successful career on stage, television, and film, and has won two Academy Awards, two Primetime Emmy Awards and a Golden Globe Award.
In a "Prick Up Your Ears" cutaway, Pablo Picasso unveils a new painting, which, once rearranged, was of Wiest.
Ad blocker interference detected!
Wikia is a free-to-use site that makes money from advertising. We have a modified experience for viewers using ad blockers

Wikia is not accessible if you've made further modifications. Remove the custom ad blocker rule(s) and the page will load as expected.