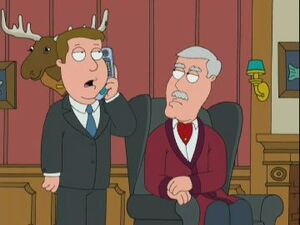 Dick is an employee at the Newport Men's Club. He speaks with a monotone and can imitate automated phone company messages. However, he also uses the same tone and phrases for everyday activities.
In "The Fat Guy Strangler", he helps Carter Pewterschmidt escape an awkward phone conversation with his daughter Lois.
Ad blocker interference detected!
Wikia is a free-to-use site that makes money from advertising. We have a modified experience for viewers using ad blockers

Wikia is not accessible if you've made further modifications. Remove the custom ad blocker rule(s) and the page will load as expected.