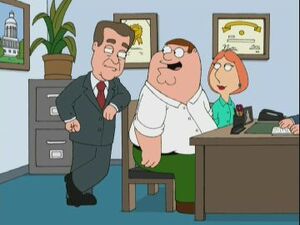 Richard Wagstaff "Dick" Clark (November 30, 1929 - April 18, 2012) was an American businessman, game show host, radio and television personality. He served as a chairman and chief executive officer of Dick Clark Productions. He was best known for hosting long-running television shows such as American Bandstand, five versions of the game show Pyramid, and Dick Clark's New Year's Rockin' Eve.
He appears with co-host Ed McMahon on TVs Bloopers and Practical Jokes in "Death Has a Shadow".
He is mentioned in "Stewie Kills Lois" when Brian Griffin tells Stewie that he won't actually kill Lois, but drink his apple juice, cry and go to sleep. To which Stewie noted that he has the same routine as Dick Clark.
In "Padre de Familia" he appears as host of Pyramid after the INS worker turned the second part of Peter's test into a game.
Peter makes a reference to Dick Clark when he argues that you can't die of a stroke in "Mom's the Word", he claims you just get to host New Year's Eve and talk funny.
He was voiced by Joey Slotnick.