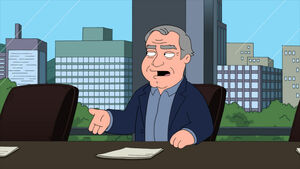 Richard Anthony "Dick" Wolf (born December 20, 1946), is an American television producer/creator of the Law & Order franchise.
Wolf voices himself in "Ratings Guy" when Peter asks him to make the same Law & Order six times. Peter also asks him to marry Matt Weiner so his name would be Dick Weiner but Dick tops that by suggesting Dick Wolf Weiner.
Ad blocker interference detected!
Wikia is a free-to-use site that makes money from advertising. We have a modified experience for viewers using ad blockers

Wikia is not accessible if you've made further modifications. Remove the custom ad blocker rule(s) and the page will load as expected.