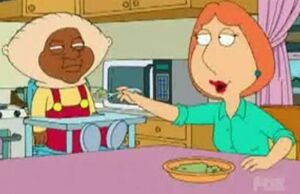 Diff'rent Strokes is an American television sitcom that aired on the NBC television network from November 3, 1978 to May 4, 1985, and on ABC from September 27, 1985 to March 7, 1986. This sitcom starred Gary Coleman as Arnold Jackson and Todd Bridges as his older brother, Willis. They played two African-American children from a poor Harlem neighborhood whose deceased mother previously worked for a rich white widower, Philip Drummond (Conrad Bain), who eventually adopted them. They lived in a penthouse with Mr. Drummond, his daughter Kimberly (Dana Plato), and their maid.
In "Death Has a Shadow", Peter Griffin says he was gonna call the government about his welfare checks when his favorite episode of the show was on.
Part of Peter's school board debate speech in "Running Mates" includes some of the lyrics to the show's theme.
In "Peter Griffin: Husband, Father...Brother?", Peter mentions Arnold Jackson getting beat up by the Gooch.
In "Fore Father", Peter asks Cleveland, Jr. to call him Mr. Drummond.
Brian Griffin and Stewie Griffin sing the Diff'rent Strokes theme as part of the "T.V. Medley" on the Family Guy: Live in Vegas album.
In "Brian Goes Back to College", Gary Coleman is dressed as Stewie as part of a plan to fool Lois while Stewie tags along with Brian at Brown University.
Jerome uses Arnold's catch phrase "What 'chou talking about?" in "Jerome Is the New Black", prompting a laugh from Peter who recognizes the reference.
In "Thanksgiving", after everyone learns why Kevin Swanson went AWOL, Peter calls him a Benedict Arnold Drummond. This puzzles the writer and director of the episode, because they have not made an appropriate cutaway for that setup. The writer guesses he wants "Gary Coleman in a Napoleon hat", but instead they play a completely unrelated gag, "The Cowardly Lion as Lindsay Lohan's gynecologist."
Chris reminds the family that Edna Garrett was also on Diff'rent Strokes in addition to The Facts of Life in "Bigfat".
Brian uses the troubled lives of former child actors to convince Stewie to give up acting in "The Peanut Butter Kid", including Dana Plato who went into porn and died an early death.
In "Nanny Goats", Natalia refers to a Diff'rent Strokes episode starring Kareem Abdul-Jabbar as a substitute teacher. There are actually two; "A Tale of Two Teachers" and "Substitute Teacher".