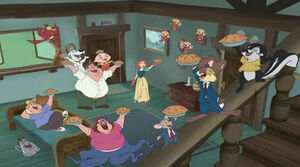 The Disney Universe was the eighth universe visited by Stewie and Brian in "Road to the Multiverse". The universe was one in which the characters were drawn in the animation style seen in Bambi, The Little Mermaid, Winnie the Pooh, Snow White and the Seven Dwarfs, and the like.
However, the tables flipped when Mort Goldman arrived at the Griffin Home, causing all the characters to beat him up due to being Jewish, a reference to the rumor that Walt Disney was an anti-Semite. This is the only universe to have a song in the broadcast episode.
Ad blocker interference detected!
Wikia is a free-to-use site that makes money from advertising. We have a modified experience for viewers using ad blockers

Wikia is not accessible if you've made further modifications. Remove the custom ad blocker rule(s) and the page will load as expected.