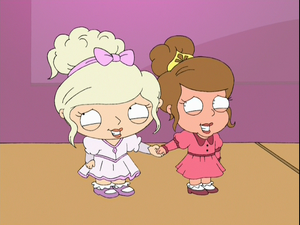 Dixie Ann Thomas is an infant girl who often participates in pageants. She lives in Texas with her family.
In "Boys Do Cry", she participated in the Little Miss Texas pageant. She was runner up to Stephanie Griffin. The two seemed to have bonded that day over the course of the pageant, as they are seen holding hands as they awaited the results.
Ad blocker interference detected!
Wikia is a free-to-use site that makes money from advertising. We have a modified experience for viewers using ad blockers

Wikia is not accessible if you've made further modifications. Remove the custom ad blocker rule(s) and the page will load as expected.