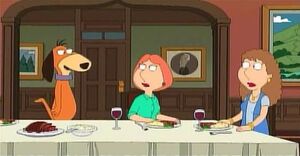 Doggie Daddy is a Hanna-Barbera cartoon character who debuted on The Quick Draw McGraw Show with his son Augie Doggie and appeared in their own segment of that show.
Doggie Daddy was the third husband of Carol Pewterschmidt in "Brothers & Sisters", where he appeared at Mayor Adam West's house with Evan Johnson and Randall Carrington, Carol's two previous husbands when Lois tried to point out the mistakes Carol had made in her past. Carol's extensive surname would give him the last name of "Stone".
Ad blocker interference detected!
Wikia is a free-to-use site that makes money from advertising. We have a modified experience for viewers using ad blockers

Wikia is not accessible if you've made further modifications. Remove the custom ad blocker rule(s) and the page will load as expected.