Chris is revealed to have had a stillborn twin that Lois planned to name "Tmas."
Peter tries to get a jup on his time off while playing Alice Cooper's "School's Out".
Loverboy's "Working for the Weekend" closes out the episode.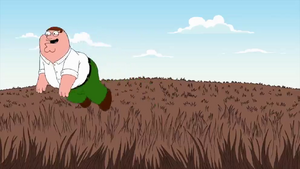 Brian's "dog-style celebration" cutaway from "The Boys in the Band" gets a callback with Peter bouncing through Patrick Swayze's hair in this episode.
Carter's own German grandmother is revealed to be alive and living in Brazil as he makes his annual Christmas call to her.
A fireplace in the Griffin home originally seen in "A Very Special Family Guy Freakin' Christmas" makes a return appearance in this episode.
Brian's current last named age is 8 and in Peter's future, set 5 years after his death, he is 13, implying that Peter was to die while the family was away in this episode.