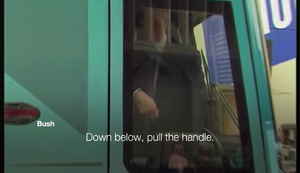 Donald John Trump (born June 14, 1946) is an American business magnate, socialite, author, television personality and 45th President of the United States. He is the Chairman and CEO of the Trump Organization, a US-based real-estate developer. Trump is also the founder of Trump Entertainment Resorts, which operates numerous casinos and hotels across the world.
Trump's Presidential election came via the electoral college in an election widely panned for Russian interference while at the same time, losing the popular vote by over three million to Hillary Clinton.
Donald is parodied on the cover for the 2016 Family Guy Emmy screener for the "outstanding animated program" pitch sent to the voters. The cover features Peter Griffin as Trump, captioned as "As long as we're voting for dumb loudmouths, can I get an Emmy?"
In a cutaway gag in the original broadcast of "American Gigg-olo", Peter's voice in interjected into a cut of sexist statements by Donald, which had become a significant campaign issue. The video consists of an interview done in 2005 for Access Hollywood with Billy Bush, who is related to George H. W. Bush and George W. Bush. Subsequent re-airings of the episode replaces the Trump gag with an animal sobriety checkpoint gag.
Listen
Peter refers to Donald's daughter Ivanka as a "hot piece of ass" in "Dearly Deported".
Stewie reads a tweet by Brian in "The D in Apartment 23" in which he comments on telling Donald he shouldn't wear orange on his face after Labor Day.
When Vladimir Putin visits Quahog in "Petey IV", Trump text messages him about grabbing some pussy together. Images of Trump and Hillary Clinton appear at the control center where the Russians rigged the 2016 election.