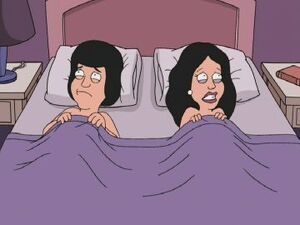 Donald "Donny" Osmond (December 9, 1957) is an American singer, musician, actor and former teen idol. Osmond has also been a talk show and game show host, record producer, race car driver, and author. He is known for being half of the brother-sister singing act Donny & Marie and a member of the "Osmond Brothers" singing group.
Mrs. Lockhart uses him and Marie as examples of giving in to impulses in "Fast Times at Buddy Cianci Jr. High".
He is also seen with his brothers wasting water in "Play It Again, Brian".
When explaining to Jerome why he should "Thank the Whites" in "Baby Got Black", Donny and Marie appear in the chorus.