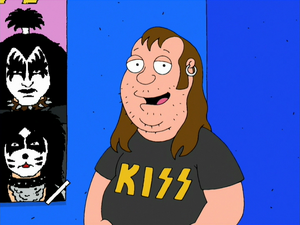 Donny Sciberra is the uber-fan of the rock group KISS, hosting his own show KISS Forum on Rhode Island's cable access channel in "Road to Europe".
Peter and Lois watch the show as he tears into Dennis DeYoung of the musical group Styx for claiming that KISS sucked. During a commercial break, Peter learns of KISS Stock and he and Lois attend, although Lois embarrasses him by not knowing the lyrics to "Rock and Roll All Nite". However, during a stop, they bump into KISS and Lois realizes she know Gene Simmons before he became famous. Lois and Peter are invited back on Donny's KISS Forum to tell their story. Following the end of KISS Forum, Donny launches into his second show, Battlestar Galactica Forum.
Donny is voiced by Jon Favreau.