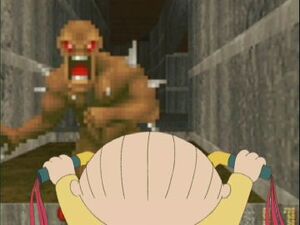 Doom is a landmark 1993 first-person shooter computer game by id Software. It is widely recognized for popularizing the first person shooter genre, pioneering immersive 3D graphics, networked multiplayer gaming, and support for custom expansions (WADs). Its graphic and interactive violence has also made Doom the subject of much controversy.
Stewie Griffin rides through level 5 of Doom in the opening of "PTV".
External link
Ad blocker interference detected!
Wikia is a free-to-use site that makes money from advertising. We have a modified experience for viewers using ad blockers

Wikia is not accessible if you've made further modifications. Remove the custom ad blocker rule(s) and the page will load as expected.